Live & Sleep
Our site is located in the midst of Fischbach, a small suburb of Friedrichshafen, on the banks of Lake Constance. Alongside our building that offers space for 120 guests, our facilities also contain a beautiful garden, a small sports ground with a volleyball and soccer court.
Besides the guest rooms, our building consists of a dining hall combined with the lecture hall, our kiosk (called honeycomb) and bookshop, a reading room and different hobby rooms, our modern kitchen, the offices and a modern and inviting foyer.
In our large dorm, we have a number of different sized rooms on three floors. All our guests live in the same place, men and women live on different floors though.
The bedrooms are simply furnished with adequate wardrobe and drawer space and wash hand basin. Showers and toilets are located near each bedroom. All rooms are made up for your arrival.
Learn & Dine
Because we think that eating together is a vital part of living together as a community of believers we all gather together three times a day to eat our main meals in the dining hall. The dining hall, which basically is one-half of our conference hall has space for more than 100 guests plus all staff members.
We serve a mixed variety of hot and cold dishes with a special focus on German cuisine but also selected dishes from around the world. We serve vegetables or salad with most main dishes, and there is often fresh fruit available. Many guests from the past years especially loved our desserts.
Our conference hall is equipped with modern technology and can hold up to 110 listeners; therefore it serves as our primary meeting place during Bible School and throughout our holidays.
If we hold events such as the Crossing or Homecoming, conference and dining hall will be combined into one large auditorium holding up to 350 people.
Study & Socialize
The honeycomb is our common room and kiosk with a view on the apple orchard. In front of the honeycomb, there's our big patio, which is used in summer.
Because we emphasise fellowship, we supply a small collection of board and card games and many seat possibilities which invite you to engage in lively conversations.
In the kiosk itself, we offer cold drinks but also coffee and tea, or fruit gums, chips, chocolate and other small snacks.
Our bookshop provides a selection of solid and sound Christian literature with different Bibles, novels, biographies, nonfiction books and of course the whole collection of Torchbearers literature. Also, we sell postcards, calendars and journals, and a small choice of music discs.
Outside business hours the bookshop is the place where the staff has their morning devotion. But usually, you are invited to sit down, read, and relax.
Collective sporty and playful activities and the joy found therein are basic for our work with youth and children at Bodenseehof. Hence we have a games room with a table tennis plate, a few fuzzballs, and a pool table. The necessary equipment can be borrowed or bought at the reception. The games room is spacious enough for every indoor game you can imagine.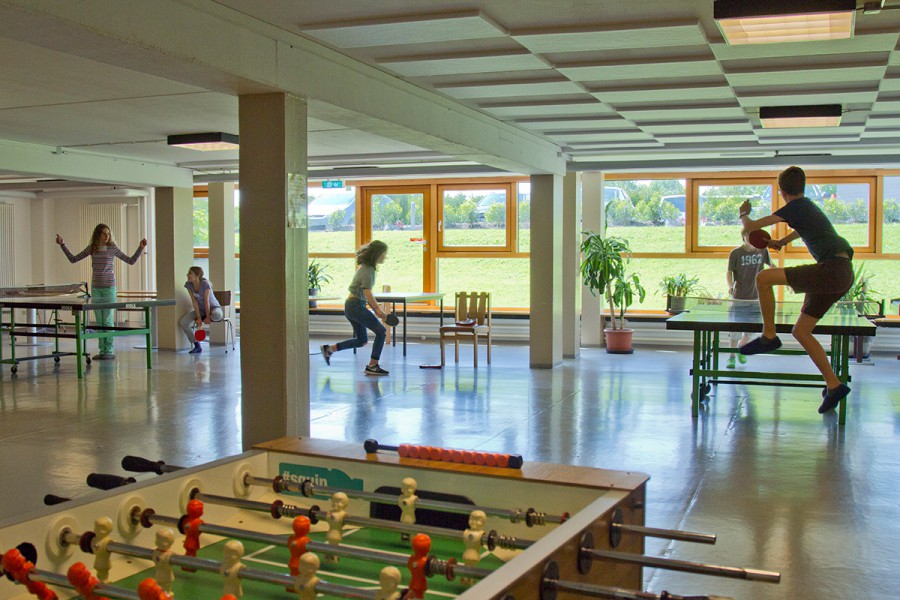 Relax & Recharge
Our newly established reading room is the perfect place when it is too loud everywhere else. Comfy seat possibilities and beanbags offer the opportunity to read the Word of God or other literature, fully relaxed, or to just admire the apple orchard in front of the window. In the reading room, smartphones and music are not permitted to ban distraction and establish real quiet and peace.
And if it should get too cold in the winter, we will light a small fire in the fireplace, and the mood will brighten immediately.
Our orchard, that's what we call our garden, is the perfect place for recreation. We invite you to sit on a bench in sight of Lake Constance, to relax and to make space for the Spirit of God to speak to you. For our young guests, it is the perfect place to romp and have some fun. There is also a small fire pit for a barbecue or stick bread in the evening.
Even in the hottest summer season, the garden is a nice shady spot in the midst of a blooming apple orchard, which is covered with hammocks in the winter season.
For us, it is important that our guests can do physical exercise and don't have to sit inside all day long. That's why we have a beach volleyball court a soccer ground and a small basketball court, which can be used in the afternoons to shoot some hoops.
In summer the public beach in town allows you to go for a swim in Lake Constance or do other aquatic sports.
Enjoy the Lake
Bodenseehof is only a stone's throw away from Lake Constance. On foot one can get to the Lakeside in about 7 minutes. From our garden, you will be able to get a glimpse of the lake while you will be able to see the majestic Swiss Alps if the weather conditions are right.
Lake Constance is Germanys largest lake, also known as the Swabian Sea. With its mild temperatures in summer, it invites you for a good swim and windsurfers will love the excellent conditions the lake offers. We also offer our guests to rent canoes and kayaks, with which they can explore the waters.